Have you ever gone to a music festival and thought, "there just isn't enough bass here!" Excision must've had the same epitome at some point because he's taking action by launching his own music festival oozing with bass talent. Coming to Legend Valley in Ohio this Fall, Excision will host a basshead's dream 3-day festival on September 29th – October 1st. Purchase tickets to Lost Lands 2017 here: lostlands.frontgatetickets.com/
Excision presents Lost Lands Music Festival
If you're having major FOMO from missing Excision B2B DATSIK at Global Dance Festival in Denver you'll have another chance to catch this legendary duo at Lost Lands 2017. Other notable acts are the reunion of DESTROID: Excision, Downlink, and DJ Sawka. It also promises "giant f@#&ing dinosaurs" and music production workshops.
Over 500,000 watts of bass will grace the Legend Valley for the three-day affair. In addition, Excision will be bringing the bonkers stage production that is the Paradox to the main stage throughout all three days of the festival. Joining Excision at Lost Lands on the 2017 line up will be Zeds Dead, Liquid Stranger, Herobust, Ghastly, 12th Planet, Illenium, Rezz, Slander, Snails, Funtcase, and a special appearance from Seven Lions. Take a look at the full Lost Lands 2017 lineup below.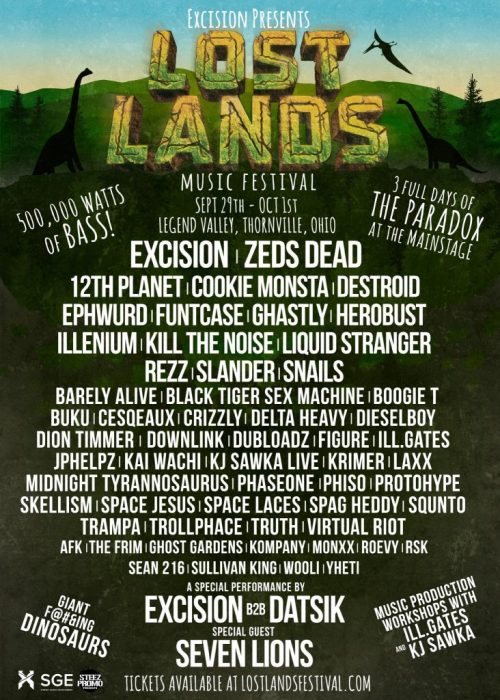 Lucky for you the pre-sale tickets are already available at lostlandsfestival.com. Since the Lost Lands 2017 line up is so freaking impressive, these tickets have been flying, so get your ticket to attend this wonderland of bass while you still can!
The end of September will bring absolutely beautiful weather to the Legend Valley in Ohio, and will provide the perfect environment for a camping festival; you're definitely not going to want to miss this festival boasting 500,000 watts of bass.
Connect with Lost Lands: Website | Facebook | Twitter | Instagram
Share this post on Facebook.
Share this post on Twitter.
Share this post on Pinterest
Share this post on Google+