Expand your mind and feel the vibrations of A Hundred Drums' soul-stirring beats and vibrating bass. DJ and producer A Hundred Drums, or Gabrielle Watson, is using her enchanting music to take listeners on a spiritual journey. Aiming to use bass music as a way to connect deeper with one another and ourselves. Gabrielle draws inspiration and creates music from an array of genres and her own musical talents. She is breaking through industry boundaries as she prioritizes spirituality, ongoing social issues, community, and connecting deeper with electronic and live music.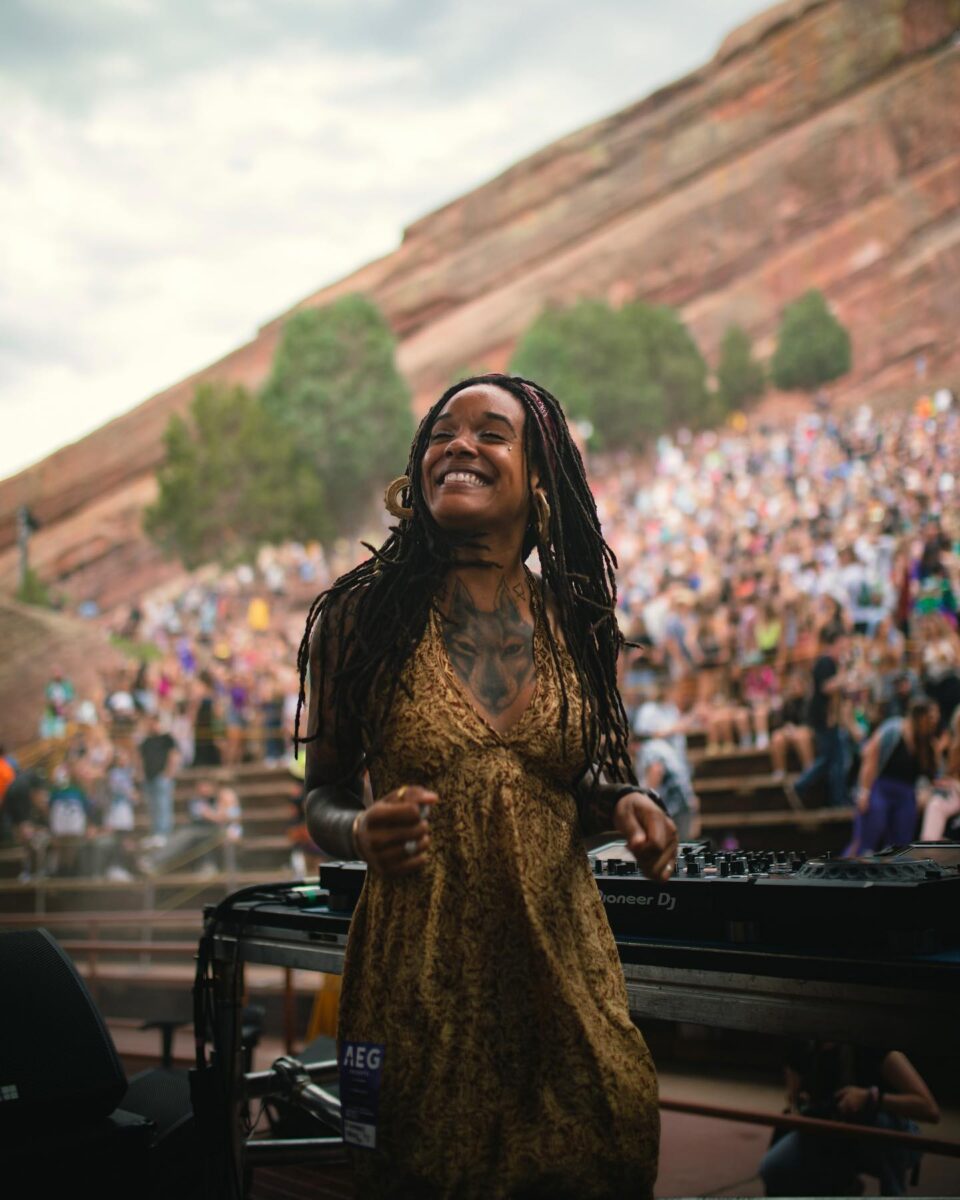 From Los Angeles, California, A Hundred Drums' love for music started from a young age. She learned a variety of instruments but connected with drums at 14, thus beginning her journey to becoming a master percussionist. From then she began experimenting with electronic music and learning/playing from multiple genres like dubstep, psytrance, reggae, and so much more. In 2014, Gabrielle co-founded B-Side, an event/production company with Murad Rezian. The group behind B-side brought underground dubstep events to LA and showcases music from a variety of worldwide talent. A Hundred Drums overcame multiple setbacks and battles during this time in her career, including a racial attack, police mistreatment, industry discrimination, and splitting time in her musical career with other professional commitments. Her determination to push through those hard times using music to heal and grow is truly inspiring. Gabrielle's rigorous work led her to massive growth and allowed her to take A Hundred Drums into her own control.
The last few years for A Hundred Drums' career and music have been absolutely groundbreaking. She truly found her original bass-melting sound during this time and worked to expand her mind-bending discography, using a kaleidoscope of hand instruments, electronic beats, and low-vibrating bass. In 2021, Gabrielle worked with Zeds Dead's record label Deadbeats to release her Enough Is Enough EP. This EP was created by Gabrielle in conjunction with her 2016 racial attack and inspiration from the rising growth of the Black Lives Matter Movement in 2020-2021. She developed this EP to bring attention to the racial/social injustices, systematic oppressions, and mistreatment of Black people in America, using her own innovative way to use her music to educate, empower, and connect people. A Hundred Drums really took off from there. She brought her wobbling deep bass tracks across the U.S. festival circuit, supported REZZ on her 2022 tour, supported Zeds Dead on multiple shows, continued working with her B-Side production company, and consistently released music on labels like Deadbeats, Gravitas Recordings and Cyclops Recordings.
Her ongoing rise in popularity continues into this year; 2023 sees A Hundred Drums with a packed touring schedule, including a massive amount of headlining shows, opening support for multiple DJs, and playing festivals like Imagine, Freaky Deaky, and Svdden Death's second installment of Summoning Fest, etc. In addition, she will be co-headlining a tour with Coki, beginning this fall.
A Hundred Drums will be bringing her entrancing and impassioned beats to Effex Nightclub in Albuquerque on August 24th and going B2B with Black Carl! here at Sunbar in Tempe on August 25th. Bringing two nights of deep emotional spiritual connection with bass, you can purchase tickets for her ABQ show here and Tempe show here.
Connect with A Hundred Drums: Facebook | Instagram | Twitter | Spotify | SoundCloud
Share this post on Facebook.
Share this post on Twitter.
Share this post on Pinterest
Share this post on Google+