Ray Volpe has been owning the bass stage and captivating his audiences since the release of his hit "Laserbeam" last June. No matter what festival or show you have been to within the last year, you have heard this dubstep hit and felt the energy it brings. Volpe's shows are no different, the heavy bass mixed with melodic synth makes for an atmosphere that takes you away from the world. Ray Volpe will be in Arizona twice in the coming months and we spoke to him this week to get you prepared!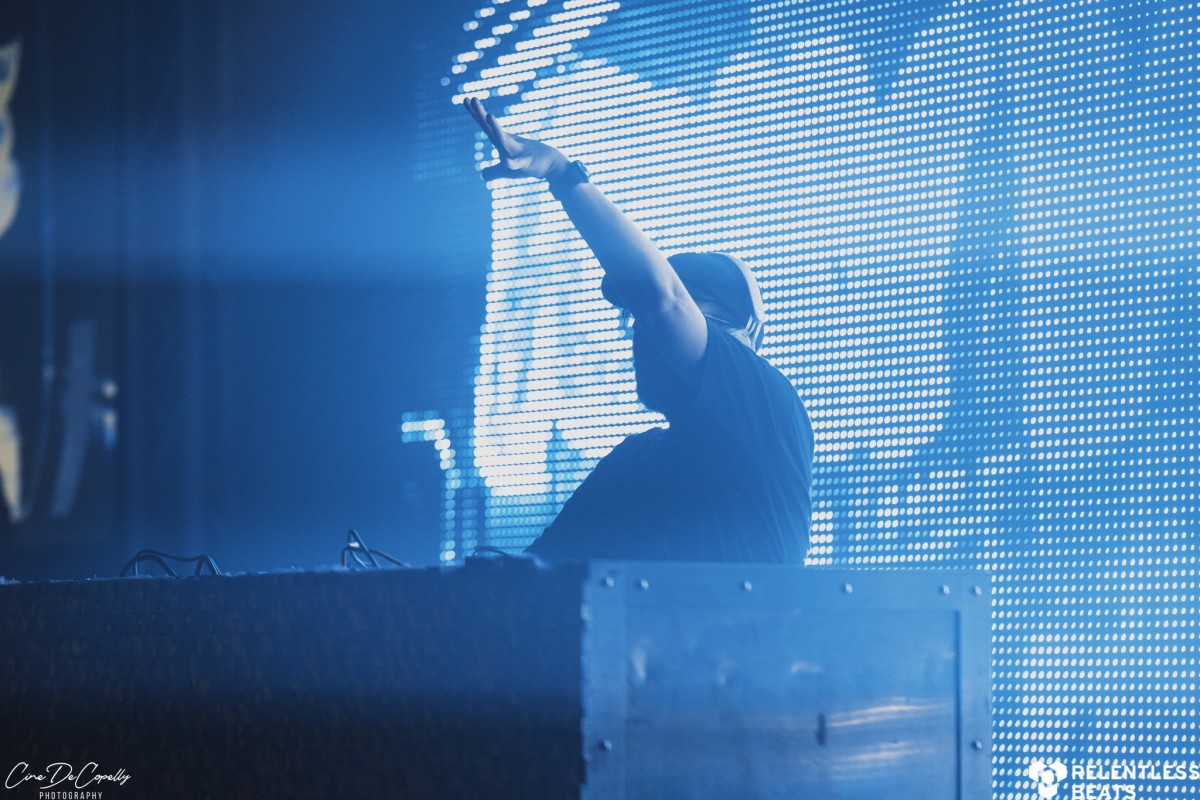 You have seen major growth in your career over the last year. First of all, congrats on your success, and secondly, do you have any pre-show rituals you could share? Or what goes into preparing for a show?
Thank you so much! It's been a crazy last year & a half or so, I'm still processing it all & learning how to adjust mentally. Honestly, my pre-show ritual is mainly me working on my set until the last possible second because I'm such a perfectionist about things. I will spend hours tweaking a set, even on the transport over to the show, sometimes even in the green room backstage. I've exported my USBs with minutes to spare before. I play a lot of festivals, & I usually get booked to come back to the area for a headline show sometime a few months later. When I do, I like to make sure the set is different. There's of course new fans or people that didn't make it to the festival, but for that percent that does crossover, I want to make sure they experience something just a little different every time. I switch up my sets like 15% every month & then like 40% every six months or seven months. Little by little over small periods of time & then bigger chunks after a while or after a big run etc. I wish I had a pre-show ritual though. That sounds fun & like an stress-free time hahaha. My ritual is freaking out with stress & anxiety.
When you are sitting down to produce and write a song, what helps you get into the writing mood?
I'm really inspired by the current climate of the scene. So I'm usually listening to a ton of recent releases from artists I'm enjoying at the moment to get me in the mood to work on that specific genre of music. I also really like throwing post-hardcore & metalcore acapellas into a project & try to work around it to give me a jumpstart of motivation. I do notice though that if I am not really feeling where the scene is moving at any given moment it causes me to hit a wall & not be able to create. I really thrive when I'm enjoying what's going on around me.
You're playing at Basstrack which is a heavily dubstep-influenced show. Were you always into dubstep, and what artists across other genres have inspired you?
I've always been into dubstep! The first two artists I ever listened to in EDM were Skrillex (his older dubstep specifically + his electro-y stuff) + Big Chocolate. I was absolutely obsessed. Both artists made all sorts of genres which is why I think I've always made multiple genres myself & have been inspired by many through my career. I've always been a huge fan of Illenium, Dabin, Seven Lions, etc on the melodic front. A lot of my melodic dubstep has heavy drops included & you can definitely hear the inspiration on the more emotional parts. I also really loved a lot of complextro & electro house early on in my career. I'm honestly super inspired by a lot of non EDM too. A lot of bands like Bring Me The Horizon, Motionless In White, Ice Nine Kills, & so on. I get super motivated by bands in that world, I think mainly because it's what I listen to the most when I'm traveling. While dubstep is my primary sound, I definitely think I'm grateful to have a fanbase that is accepting of me making multiple styles of music. I actually have a ton of requests right now to release both a fully melodic dubstep song I made with RUNN, as well as a heavy bass house tune that have both been sitting unreleased for a while. Having those be some of my most requested IDs to drop makes me really really satisfied as an artist that does more than just one type of music. 
Did you see DJing and producing as your full-time career? What were other career paths you would have pursued?
I actually started making music when I was 12! I was only in seventh grade, & I had no real passions for anything in a standard working world. At that point, I had already been editing a lot of videos on YouTube. I had done so much in the gaming montage CoD community, stop motion work with wrestling, even some tech videos. All as a young kid. I knew something online was going to be what I wanted to do. Music took over very quickly when I learned about EDM, but if it didn't, I'm sure I'd be a YouTuber or something by now full time. It's definitely something I'd like to revisit at some point later.
What is your holy grail-producing item?
OTT, hahaha. Every bass producer's favorite effect, if not that though then hmm. Honestly, maybe just my laptop in general. Being able to make music anywhere in the world with zero issues of CPU or overheating etc is just a blessing. I'm very grateful that technology has come so far in the last like 20 years, as well as being able to afford something like that. If we're talking strictly in the program though, then maybe Corpus. It's a resonator built into Ableton that I use on literally every bass to give it extra grit & texture. It's my favorite!
Is there anything exciting coming up you could give us a hint about?
Oh my, so so so much. My new EP "VOLPETRON ASCENDS" is going to be special, it's coming out super soon. It's five tracks & spans across multiple genres. Aside from that, you can't have a new EP without a new tour. I'm extremely excited for that. New visuals, new set, lasers! I'm working hard to give everyone a fun experience. It's lots of festivals & some new rooms to headline that I've never played before. Like, bigger ones that I'm kinda terrified about haha. I have two really special moments happening at the end of the year too, one relating to music & one relating to shows. Both I think fans will really appreciate & be excited for. There's some stuff even crazier we have planned for next year that I can't even murmur a word about, but that's going to be wild. I really can't wait.
You are also playing at Dusk in Tucson, are there any artists you plan to see while you're there?
I'll be throwing ass at DJ Snake 100%.
You can see Ray Volpe at Basstrack September 2nd and 3rd and Dusk November 10th and 11th!
Connect with Ray Volpe: Facebook | Instagram | Twitter | Spotify | SoundCloud
Share this post on Facebook.
Share this post on Twitter.
Share this post on Pinterest
Share this post on Google+