With bouncing bass and electrifying beats, Phoenix's own DJ and producer Blossom is returning to AZ for a special hometown headline. With her bright shimmering vibes and captivating energy Blossom has been on a nonstop rise in her career. Her Cosmic Dreams tour is about to kick off and Blossom will be bringing all of her genre-bending heat; from her specialty dark bass house to energizing drum & bass and more, Blossom's return home will be nothing short of legendary.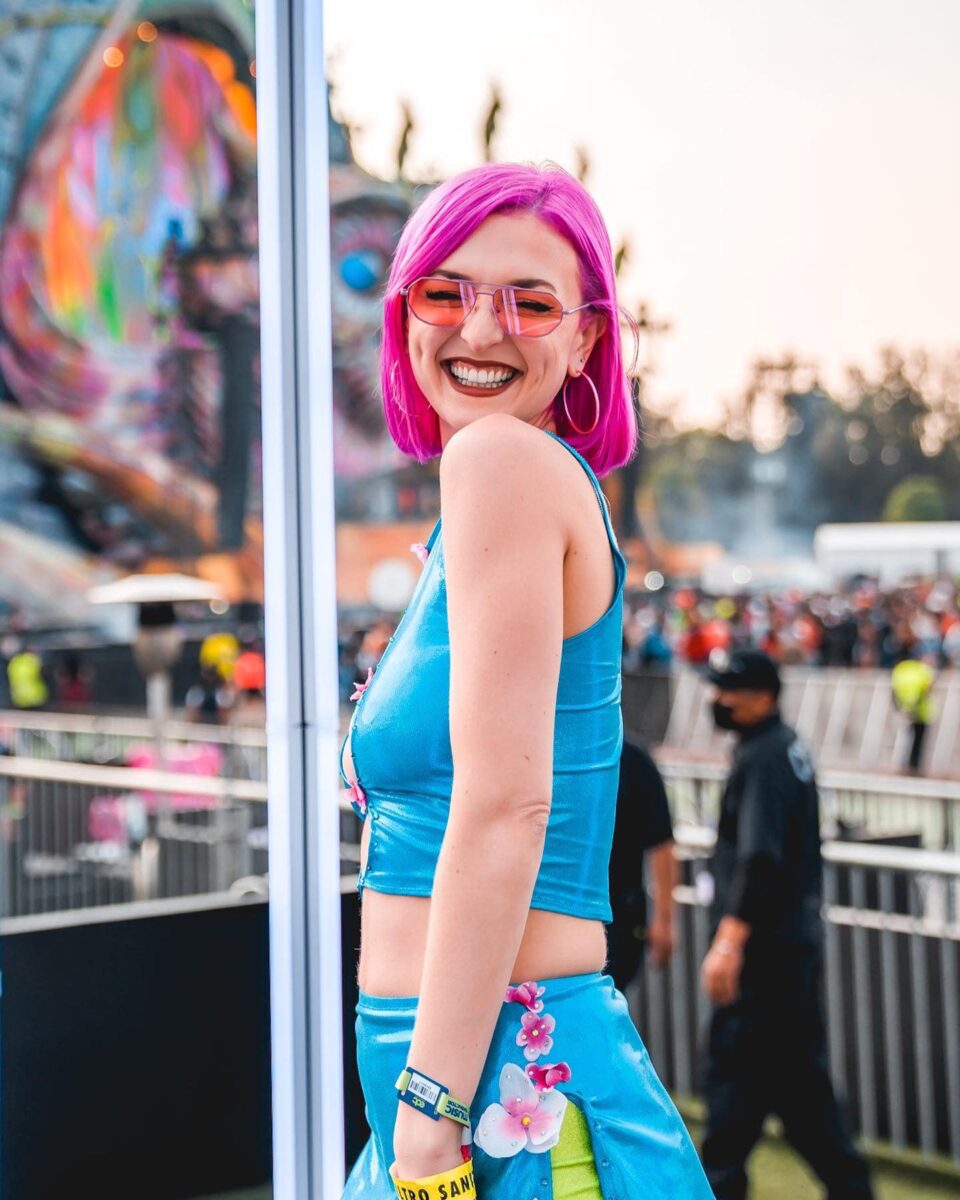 Blossom (or Emile Fromm) started out her career right here in Phoenix. Being drawn to the world of edm, with an extensive classical music knowledge, Blossom began to learn how to DJ and produce music. After taking classes here in AZ and in Los Angeles, she began mixing in the underground and her career as Blossom began. Rising through the AZ underground and performing at multiple Relentless Beats events, Blossom gained the attention of AC Slater's Night Bass record label. Releasing multiple tracks with Night Bass, like "Go," her Big Shot EP, and more. Blossom was awarded Best DJ by Phoenix New Times in 2019.
Since then, Blossom has been on the rise, taking over the festival circuit, touring and continuous releases of a versatile blend of fire tracks. She also recently released her track "Ride 4 U," debuting on Zeds Dead's label, Deadbeats. Blossom continues to grow and achieve great things in her career. We had a chance to chat with Blossom about her upcoming hometown headlining show, her career, and her upcoming Cosmic Dreams tour, check it out down below!
---
First I would like to say congratulations on your upcoming Cosmic Dreams tour, and we can't wait to have you back here for your hometown headline! What do you have in store for fans with the Cosmic Dreams Tour?
Thank you so much! I can't believe I get to perform on home turf. It'll be very exciting to have all of my people there, friends and fans. I just moved to NYC, so this show will be extra meaningful for me as I return to my home and get to spend time with everyone. I think my whole family will be there 🙂 As for the tour, I'm working on elevating my sound and my brand and can't wait to showcase my hard work during this next show run.
Being from Phoenix, what was it like for you growing up here and what were the biggest influences from your surroundings that drew you to producing edm?
I genuinely credit the Phoenix scene for my interest in pursuing electronic music! Growing up, I listened to EDM independently, but when I got to college (I went to ASU!) I fell in love with the music scene in Phoenix. Seeing peers perform at various parties I went to in college is what ultimately got the wheels turning in my head and made the prospect of a career in music exciting. I took some beginner music production and DJing classes at Scottsdale Community College before ultimately taking the leap and pursuing music more seriously. I wouldn't be here without the amazing opportunities to be exposed to great dance music in Arizona.
Starting out in the underground scene here in AZ, what were your most memorable moments or milestones during this time in your career?
The biggest moment for me was when I made Top 15 in the '15 mins of Fame' DJ competition in 2015. That opened so many doors for me and really began my career. I have been very lucky to work with Relentless Beats over the years and will be forever grateful for the many opportunities to open up shows as local talent and perform at festivals throughout Phoenix.
I've read you were born in London, did you spend time out there before moving out here to Phoenix, if so are there any inspirations you have taken from your time there?
I was so young when I left — I moved when I was about 5. I'd love to credit it with some of my inspiration, but I feel like Arizona shaped me in a much more impactful way.
Over the last few years, your career has really taken off, non stop touring, packed stages at festivals, working with Night Bass, etc. how has it felt experiencing such rapid changes in your career?
I'm not sure you ever really get used to it! The way that my career has progressed has been so special and exciting. It's also been surprising in many ways — I had no idea when I started all of this in 2015 that I'd be doing this full time and dedicating my life to this craft. I honestly just feel very lucky that I get to live my dream and explore all areas of my creativity as a career.
Your dark alluring but high energy sound has always been very versatile, with a speciality in bass house, and recently we've been hearing some more DNB in the mix. What were the inspirations that drew you to bass house and drum n bass?
I've been interested in bass house for the majority of my career, starting with listening to early future house bootlegs by Tchami in 2014 to ultimately discovering AC Slater and Night Bass in late 2014/early 2015. From this point, I soaked in as much EDM as possible, exploring the depths of SoundCloud and discovering a wide range of music I loved, from experimental trap to house to drum & bass.
Given my early interest in a variety of styles, I'm personally unsurprised that I'm now producing drum & bass as well. Over the pandemic, I reignited my love for drum & bass almost as a form of escapism, and spent many nights closing my eyes and really getting lost in the music. After re-experiencing how amazing drum & bass was as a listener, I knew I had to produce it as well. I just feel grateful that my fans are so open minded and accepting of my many genre interests.
You are well known for the iconic pink hair, when did the pink hair become a part of your style or your brand as a DJ?
The pink came before the name! Growing up, I was always in love with the color, often wearing full pink outfits throughout my early years. I often dreamed of dyeing my hair pink (I was blonde before) , but thought of it as a fantasy rather than a reality. I went to music school in LA in the summer of 2015, and before I attended HARD Summer that year, I decided to use a temporary pink hair dye to have a fresh look for the weekend. During one of the sets at HARD, a friend turned to me and suggested I looked like a PowerPuff Girl with my pink hair, and in that moment Blossom was born. I kept the pink hair, and 8 years later, here we are.
What are some of your go-to spots in Phoenix when you are back in town?
As far as venues go, I love Sunbar (so excited to perform there!). My favorite bars are 1912 and Barcoa. I'm vegan, so my favorite spots include The Coronado (a staple!) and Clever Koi (amazing vegan ramen).
Can we expect any surprises in store for your hometown headline, any sneak peeks you're willing to share?
I can't share much yet, but just know… after well over a year since performing in Arizona, I am incredibly excited to be home and get to share this moment with my AZ pinkies. I wouldn't be here without all of you.
---
Blossom continues to blaze through the ranks with her vibrant energy and her high-powered music. Blossom's Cosmic Dreams homecoming show will be taking over Sunbar, here in Tempe, November 18th. The night will be high energy, rumbling with bass, and filled with surprises from Blossom, you can get more info and grab your tickets here!
Connect with Blossom: Facebook | Twitter | Instagram | Spotify | SoundCloud
Source: Phoenix New Times
Share this post on Facebook.
Share this post on Twitter.
Share this post on Pinterest
Share this post on Google+