Scottsdale is always the place to be, but it's especially the place to be this Halloween weekend! Body Language is presenting Super Unnatural, a two-night Halloween music festival with one of the best house and techno lineups of the year! Super Unnatural is taking place this October 27th & 28th at the WestWorld of Scottsdale and the lineup is stacked with headliners! With only a couple of weeks until Super Unnatural, here are five tracks to get you ready for this spooktacular event!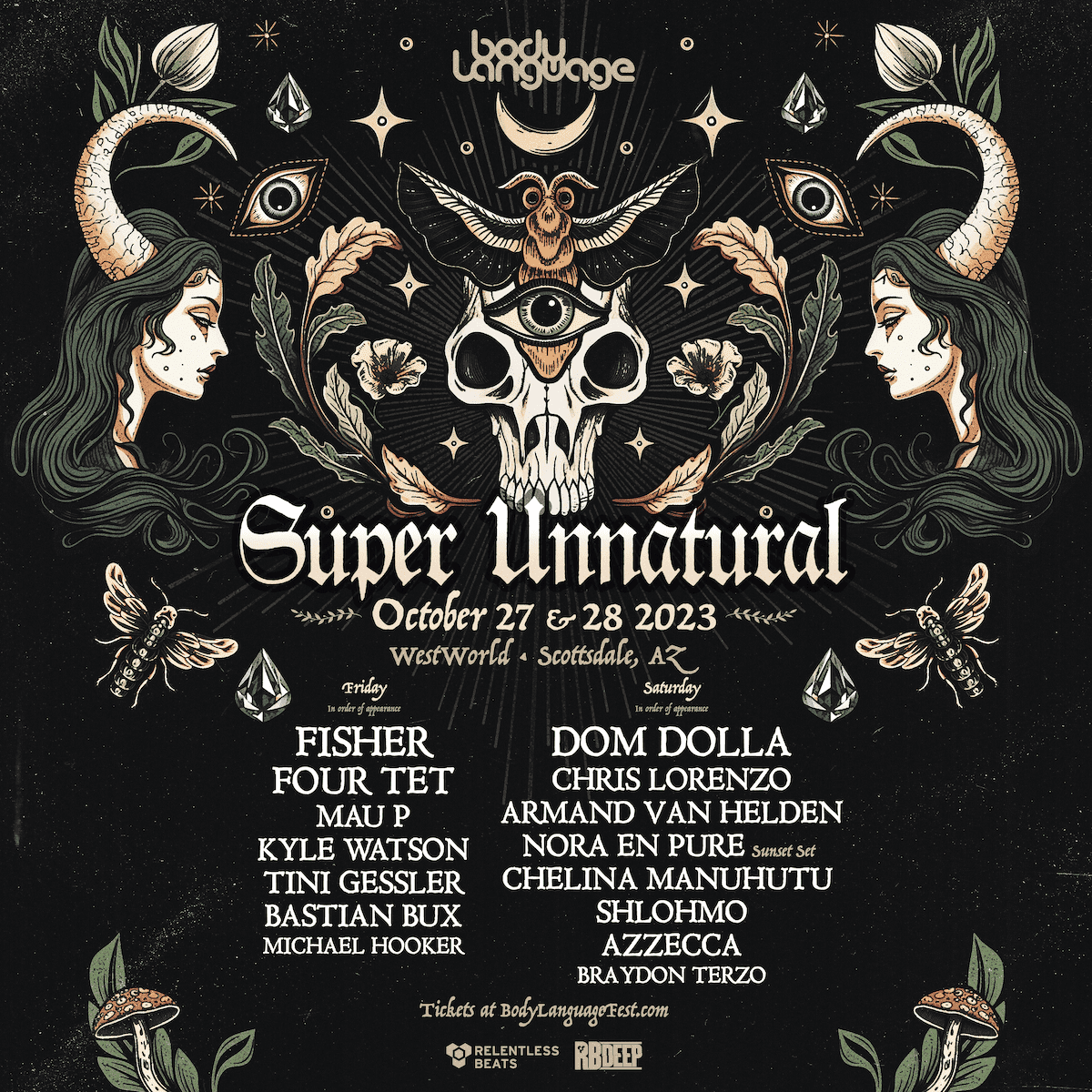 "TAKE IT OFF" – FISHER & Aatig
This year's summer anthem, "Take it Off" has been one of FISHER's most successful releases of the year. FISHER is always sharing his undeniable high energy and positive attitude everywhere he goes. FISHER sets are a guaranteed good time and we cannot wait for him to help close out Day 1 of Super Unnatural! 
"Baby again.." – Four Tet, Fred Again, and Skrillex
A stunning house track by the holy Trifecta. Four Tet will be taking over Day 1 at Super Unnatural and there's really no way to explain what we can expect! He's known as one of the most experimental and influential producers of our time. 
"Saving Up" – Dom Dolla
Inspired by the importance of saving time for your loved ones, "Saving Up" is a happy little banger. Dom Dolla's signature style of house music is guaranteed to get you dancing. His lively presence creates a crowd full of good vibes and lots of laughs.
"Your Mind Is Dirty" – Mau P 
EDM's poster boy, Mau P, will be making his Arizona debut at Super Unnatural! Known for releasing heaters only, you can expect his set to be as dirty and fun as this track. Check out our exclusive interview with him ahead of Super Unnatural here. 
"Who You Are" – Nora En Pure
Nora En Pure will be playing a once-in-a-lifetime sunset set at Super Unnatural for Day 2. The music and vibe of Nora En Pure is pure magic and will heal you from the inside out. "Who You Are" is Nora En Pure's most recent offering and embodies why she is one of the world's leading acts in Deep House.
Grab your tickets for Super Unnatural here! Relentless Beats is also offering exclusive travel packages. The various levels of travel packages include hotel and resort lodging, roundtrip transportation, two-day passes, express access, unique features, and on-site activities like Sunday brunch. You can visit www.BodyLanguageFest.com for the most up-to-date information on Super Unnatural and check out @BodyLanguageAZ across social outlets.
Connect with Four Tet: Facebook | Instagram | Twitter | Spotify | SoundCloud
Connect with Mau P: Facebook | Instagram | Twitter | Spotify | SoundCloud
Connect with Dom Dolla: Facebook | Instagram | Twitter | Spotify | SoundCloud
Connect with Nora En Pure: Facebook | Instagram | Twitter | Spotify | SoundCloud 
Share this post on Facebook.
Share this post on Twitter.
Share this post on Pinterest
Share this post on Google+