Zeds Dead is set to bring a special experience to their fans on their recently announced 2024 Two Night Stand tour. DJ/producer duo, Dylan Mamid and Zachary Rapp-Rovan are switching things up on their forthcoming tour from their usual large venue, usually packed, headlining shows. Two Night Stand is bringing two unparalleled nights to five cities at some unique intimate venues across the U.S. Zeds Dead will have two nights of surprises, amazing music, and a chance for fans to connect with them on a whole new level.
---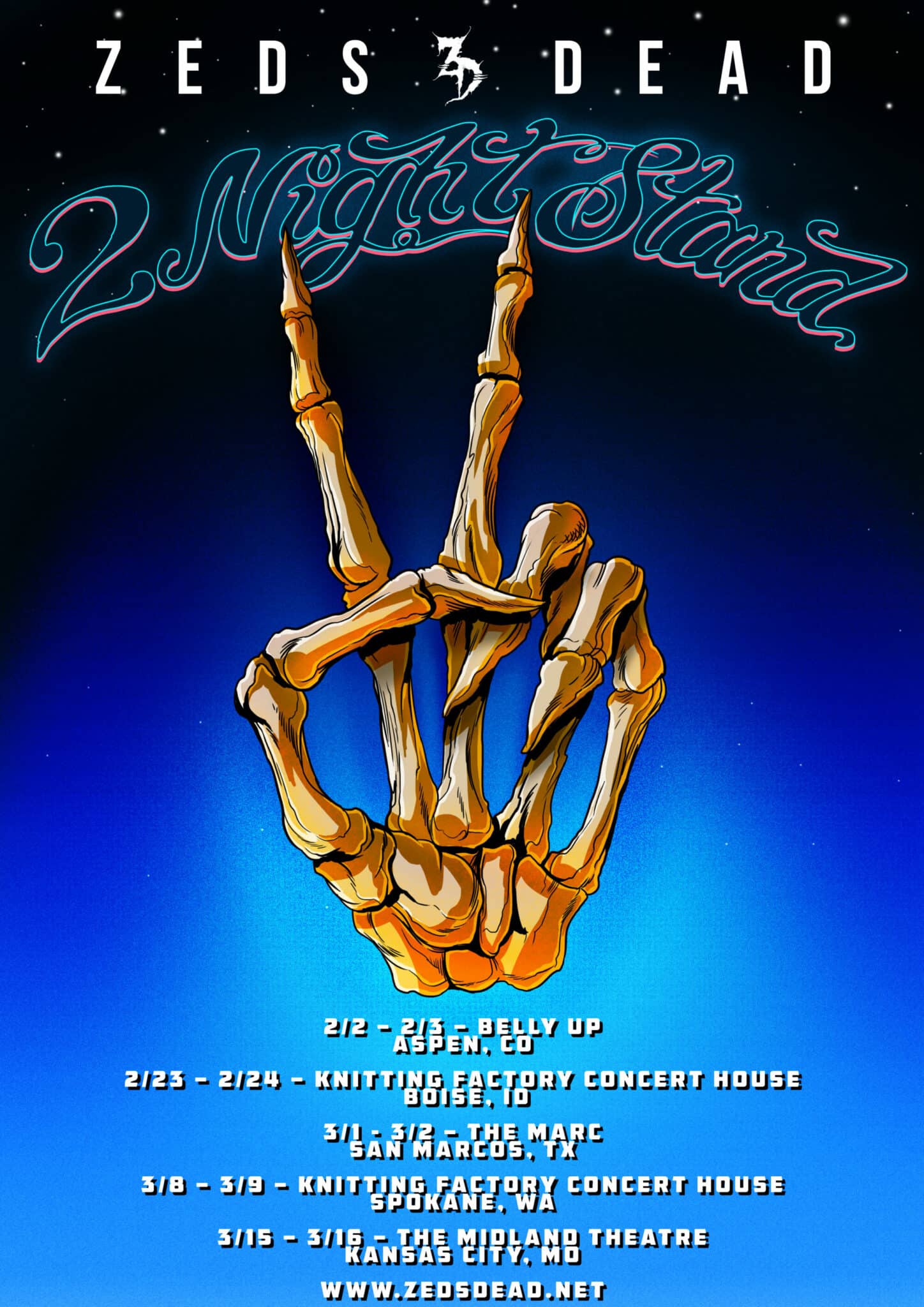 ---
The Two Night Stand tour is hitting five cities around the U.S that have been hand-picked by Zeds Dead. Each event will be hosted at smaller venues or classic rock rooms, with venue capacities reaching between 300-1500. Although these shows are at a much smaller scale, Zeds Dead will undoubtedly show out with the best vibes and once in a lifetime legendary sets. With the recent announcement of this tour, not much else has been said about what they have in store for fans but know it will be a different exclusive experience each show. Zeds Dead will be accompanied each night of their tour with extraordinary lineups, still to be announced.
With the announcement of the Two Night Stand tour, Zeds Dead said the following on their social media platforms about their upcoming tour:
"Do you ever only have one slice of pizza? Or one spoon full of ice cream? Maybe.. Maybe your do but maybe not. We say why not have another. We've decided that after 10 years of putting out music we have too much for just one night and the only logical thing to do is to add another night. Everybody knows two is better than one. First is the worst second is the best etc. It takes 2 to tango. And we love to tango! So let's tango together for two nights in a row. 2 NIGHT STAND IS BACK!"
Zeds Dead couldn't have said it better themselves: two is better than one, and the Two Night Stand tour is going to be an elevated experience for fans. Two Night Stand follows a similar tour in 2015 for the release of their album, Northern Lights. A sneak peek of what's to come, but definitely be ready for unexpected surprises and two B2B nights in each city filled with Zeds Dead esteemed mind-melting music.
Zeds Dead continues on their journey of success, continuing to showcase their love for music and their fans. The Two Night Stand tour will definitely be a once in a lifetime experience. Be ready because tickets for the artist presale go on sale this Thursday, November 9th, followed by general onsale, Friday, November 10th. Join Zeds Dead on their cosmic Two Night Stand tour, get more info, and sign up to be notified when tickets drop, here.
Connect With Zeds Dead: Facebook | Instagram | Twitter | Spotify | SoundCloud
Share this post on Facebook.
Share this post on Twitter.
Share this post on Pinterest
Share this post on Google+